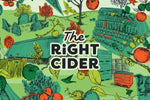 At Kentish Pip we have a clear ambition, to create outstanding cider, with impeccable core values.
We believe in being The Right Cider, for the cider drinker and beyond. That means celebrating the unique character of fresh English apples, making every drop onsite at Woolton Farm, by combining the best ingredients with innovation, sustainability, style and a pinch of tradition.
It's time to choose which cider you are on.
Flavour first. Because life's too short to drink mediocre cider.
Great cider takes time.
While our fresh, fruit forward ciders can be ready within a few months of pressing, where others require 24+ months maturation before they are in optimum drinking condition.
The only real way to tell when the cider is ready is to taste, taste and taste again.
It's a tough job, but one we're willing to take on for your maximum enjoyment.
Fresh English apples, from pip to pint. Our cider is only made from 100% fresh whole apples pressed and fermented at Woolton Farm.
We only source apples from our own farm and a handful of trusted local growers and never use concentrate. We know each and every apple in our cider.
Innovation in fermentation. From Discovery to Dabinett, we take a bespoke approach to each apple variety to celebrate its unique character.
We've paired every carefully-selected apple variety with a specific cultured yeast, including wine and champagne yeasts, to promote its distinct flavour.
Peel back the process. We create our cider with transparency and honesty, putting sustainability and responsibility at the heart of every decision.
We are always looking for ways to reduce our carbon footprint, reduce waste and protect and increase biodiversity.
All our packaging is fully reusable (kegs) or recyclable (cans and bottles), we aim to have our farm 100% powered by renewable energy all generated on site by 2025 and in 2023 Woolton Farm joined the higher-tier countryside stewardship scheme, establishing species rich grasslands, winter bird food plots and wildflower meadows creating wildlife corridors and biodiversity habitats.
Packed full of Apples. Each pint is packed with the fruits of our labour (4 - 6 apples to be precise).
Our award-winning ciders showcase different styles of apples from classic Kentish dessert and culinary apples to our heritage cider fruit grown at Woolton Farm. The result? An unbeatable orchard to glass taste experience.