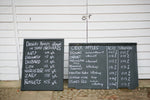 The Craft Cider sector grew at 17% in the on-trade last year while other segments either declined or at best hit 1.7% growth. 1
However, without a recognised definition, the category is flooded with an array of products calling themselves craft but with little other than packaging to distinguish them from mass-produced cider and commonly made by the same people.
Why does it matter?
You only have to look at the craft beer and gin sectors to see how they have revitalised the industry through driving interest, innovation and quality.  They did so by breaking with traditions and delivering unique, individually crafted products. 
 

 For the craft cider revolution to continue to flourish and bring the same benefits to the trade as craft beer, cider buyers also need to break some old moulds and offer up a more authentic and varied craft range.


Recommendations to cider buyers
List two or more keg ciders
Make sure they have a real point of difference (regional, varietal, style etc.)
Be clued up, speak to your suppliers and understand the products
Break the mould, don't view all cider as a low value product 


Do we need to define craft cider?
The word craft can mean traditional to one person and innovative and contemporary to the next.  Definitions can be divisive, stifle innovation and prevent progress as we have seen in the past with both beer and cider. Rather than get stuck on definitions I want to suggest some ways in which you might assess the credentials of a product or producer. 
Check Your Cider Credentials
Ingredients
The cider is produced from whole fruit, not from concentrate
Known apple varieties play a key role in the flavour of the final product
Provenance - the producer knows and cares where their fruit comes from and how and when it's harvested
The Producer
You know who the producer is
You know where the cider is produced
There are key individuals who care passionately and are intimately involved in the whole process from harvest to final blend
The product
Products are distinguished by the varieties of apples they are made from
Products are uniquely and individually crafted
The producer has their own house style
At Kentish Pip our ciders are distinguished by apple variety with over 100 uniquely crafted fermentations taking place each season.  We have been growing apples for four generations and press and produce all our ciders at Woolton Farm in Kent.  Find out more at kentishpip.co.uk or get in touch to come and visit us at Woolton Farm.
Sam Mount
Director, Kentish Pip
References
1: Westons Cider Report 2018